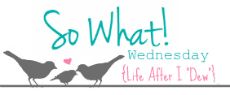 Linking up for So What! Wednesday.
So what...
That I havent been to the gym all week. I haven't felt like it and I didn't want to ruin my spray tan yesterday.
That I had two mini cupcakes for breakfast this morning and I loved every bite.
That my coworker's existence is really annoying me today.
That sometimes I flip him off on the other side of the wall when he asks me something.
That I just want to be a stay at home daughter. Seriously someone should pay me to stay at home and craft and shit.
That sometimes I refer to my parents as my room mates.
That I really want Pei Wei right now, but it's only 10 am.
Happy Hump Day!
-S