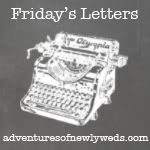 Dear Friday:
Thank you for coming so quickly this week!
Dear Cold Fall Weather:
I am soo happy for your arrival! Bring on the riding boots and leggings.
Dear Blogger:
Why aren't you showing my pictures I post in my blogs? I LOVE reading blogs with no pictures...said no one ever.
Dear Birthday:
You will be here in no time and I am getting way too old although I still feel 18 most of the time.
Dear T-Swift:
Thanks for the great new tunes, your CD has been on repeat in my car since it came out. Do people still listen to CD's?
Dear gas prices:
You just keep on dropping I like that, but I'm onto you Obama. No fooling this girl.
Dear bank account:
Quit being an asshole and increase already.
XoXo-S