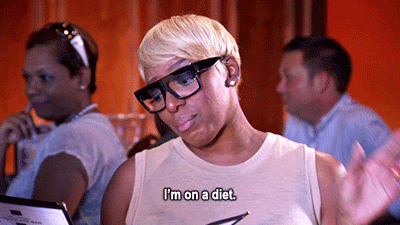 It's Day 2 of my Military Diet.
There is a reason the word Diet has the word DIE in it.
You are suppose to wait until Day 4 to weigh, so if I do indeed die at least weigh me to see if it worked first.
Lunch is the hard part for me.
Breakfast wasn't bad yesterday it was something I would normally eat half a grapefruit and toast with PB.
Lunch is was hard. I just love dry tuna. -said no one ever. I had a cup of tuna plain and a piece of wheat toast.
And dinner wasn't bad I had tilapia, half a banana, half an apple, a cup of green beans and a cup of ice cream. I could do without the ice cream, I am more of salty person.
Today though I may not make it kids...
I am STARVING!!!
I feel tired and blahh but I can't have my green tea or coffee.
My lunch to look forward to is a hardboiled egg and a cup of cottage cheese complete with 5 crackers.
And FIVE whole crackers? Well weren't they generous.
What? I usually shove 5 in my mouth at one time.
Plus my fitness pal says I am not getting enough calories. Really? Because I would had thought the 5 crackers were putting me over the edge.
I don't like quitting things, but maybe if I just tweak this "diet" so its no longer a "diet" and more of a lifestyle change it will be more my thang.
I don't know whether to stop this nonsense right now and just eat really healthy or continue on... maybe to my death.....